Video coming soon! Audio recording above.
A panel event held on Saturday, December 1st, 2012 at the Mile End campus of Queen Mary University.
Transcribed in Platypus Review #55 (Click below to see):

The present moment is arguably one of unprecedented confusion on the Left. The emergence of many new theoretical perspectives on Marxism, anarchism, and the left generally seem rather than signs of a newfound vitality, the intellectual reflux of its final disintegration in history. As for the politics that still bothers to describe itself as leftist today, it seems no great merit that it is largely disconnected from the academic left's disputations over everything from imperialism to ecology. Perhaps nowhere are these symptoms more pronounced than around the subject of the economy. As Marxist economics has witnessed of late a flurry of recent works, many quite involved in their depth and complexity, recent activism around austerity, joblessness, and non-transparency while quite creative in some respects seems hesitant to oppose with anything but nostalgia for the past the status quo mantra, "There is no Alternative." At a time when the United States has entered the most prolonged slump since the Great Depression, the European project founders on the shoals of debt and nationalism. If the once triumphant neoliberal project of free markets for free people seems utterly exhausted, the "strange non-death of neo-liberalism," as a recent book title has it, seems poised to carry on indefinitely. The need for a Marxist politics adequate to the crisis is as great as such a politics is lacking.
And 2011 now seems to be fading into the past. In Greece today as elsewhere in Europe existing Left parties remain largely passive in the face of the crisis, eschewing radical solutions (if they even imagine such solutions to exist). In the United States, #Occupy has vanished from the parks and streets, leaving only bitter grumbling where there once seemed to be creativity and open-ended potential. In Britain, the 2011 London Riots, rather than political protest, was trumpeted as the shafted generation's response to the crisis, overshadowing the police brutality that actually occasioned it. Finally, in the Arab world where, we are told the 2011 revolution is still afoot, it seems inconceivable that the revolution, even as it bears within it the hopes of millions, could alter the economic fate of any but a handful. While joblessness haunts billions worldwide, politicization of the issue seems chiefly the prerogative of the right. Meanwhile, the poor worldwide face relentless price rises in fuel and essential foodstuffs. The prospects for world revolution seem remote at best, even as bankers and fund managers seem to lament democracy's failure in confronting the crisis. In this sense, it seems plausible to argue that there is no crisis at all, but simply the latest stage in an ongoing social regression. What does it mean to say that we face a crisis, after all, when there is no real prospect that anything particularly is likely to change, at least not for the better?
In this opaque historical moment, Platypus wants to raise some basic questions: Do we live in a crisis of capitalism today and, if so, of what sort — political? economic? social? Why do seemingly sophisticated leftist understandings of the world appear unable to assist in the task of changing it? Conversely, can the world be thought intelligible without our capacity to self-consciously transform it through practice? Can leftist theoretical frameworks survive as an economics or social theory without politics? Is there capitalism after socialism?
Panelists:
David Graeber (author, Debt: the First 5000 Years)
Saul Newman (author, From Bakunin to Lacan)
Hillel Ticktin (co-founder, Critique: Journal of Socialist Theory)
James Woudhuysen (contributor to Sp!iked magazine)
Moderator:
Lucy Parker
[. . .]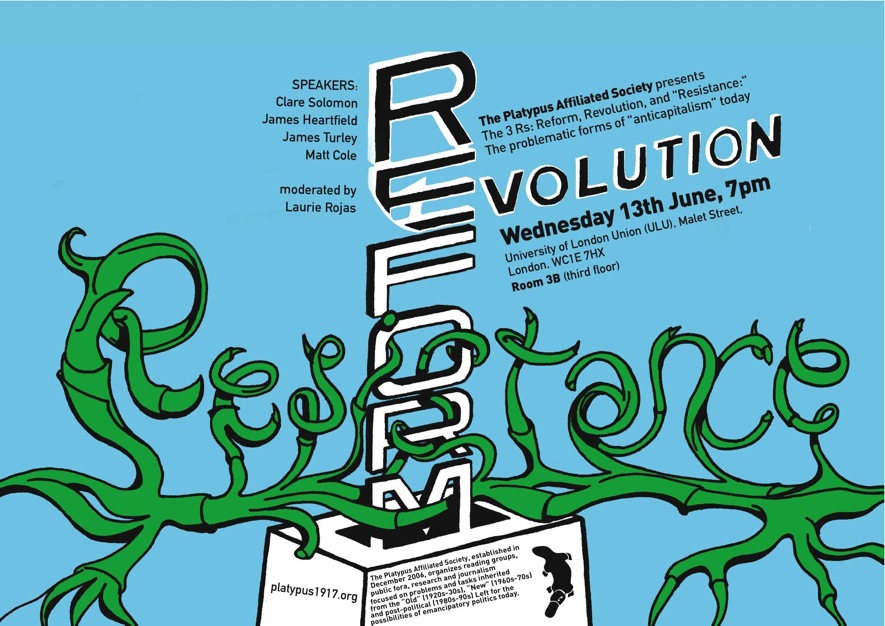 Wednesday 13th June, 7pm
University of London Union (ULU), Malet Street, London, WC1E 7HX
Room 3B
SPEAKERS:
Clare Solomon
James Heartfield
James Turley
Matt Cole
Moderated by:
Laurie Rojas
"[After the 1960s, the] underlying despair with regard to the real efficacy of political will, of political agency [. . .] in a historical situation of heightened helplessness [. . .] became a self-constitution as outsider, as other [. . .] focused on the bureaucratic stasis of the [Fordist/late 20th Century] world: it echoed the destruction of that world by the dynamics of capital [with the neo-liberal turn after 1973, and especially after 1989].
The idea of a fundamental transformation became bracketed and, instead, was replaced by the more ambiguous notion of 'resistance.' The notion of resistance, however, says little about the nature of that which is being resisted or of the politics of the resistance involved — that is, the character of determinate forms of critique, opposition, rebellion, and 'revolution.' The notion of 'resistance' frequently expresses a deeply dualistic worldview that tends to reify both the system of domination and the idea of agency.
'Resistance' is rarely based on a reflexive analysis of possibilities for fundamental change that are both generated and suppressed by [the] dynamic heteronomous order
[of capital]. ['Resistance'] is an undialectical category that does not grasp its own conditions of possibility; that is, it fails to grasp the dynamic historical context of which it is a part."
— Moishe Postone, "History and Helplessness: Mass Mobilization and Contemporary Forms of Anticapitalism"
(Public Culture 18:1, 2006)
1. Since the 1960s, and especially since the 1990s, struggles for social, economic and political emancipation have been conceived less in terms of structural reforms or revolutionary transformation and more in terms of "resistance." How do you define "resistance" and how do you understand its role in possibilities for social change?
2. One powerful way "resistance" has been conceived has been in terms of "culture" and practices of "everyday life." How do you understand the implicit (if not explicit) distinction thus made of politics directed at society as a
whole, from the more apparently mundane concerns and stakes of quotidian existence?
3. What, in your understanding, are the reasons for and the consequences of this historical shift away from movements for reform or revolutionary politics, to tactics, strategies, and self-understandings in terms of "resistance?"
4. Where do the new forms of politics of "resistance" point, in your estimation, for social-emancipatory possibilities, today and in the future?
5. What kinds of change do you envision on the horizon of present social concerns? How do you imagine the potential manifestations of such change?
6. What can and should those on the Left — those interested in working towards social emancipation — do, tactically and strategically, in view of such possibilities for change?
Also find us at our Facebook event.
Since 2007 Platypus has been organizing a series of events on The 3Rs. Click on the date/location to go to the audio:
Panelists:
Michael Albert (Z Magazine, author of Parecon: Life After Capitalism), Chris Cutrone (Platypus) [Chris Cutrone's opening remarks prepared text], Stephen Duncombe (Gallatin School of New York University, editor of Cultural Resistance Reader), Brian Holmes (Continental Driftand Université Tangente), and Marisa Holmes (new Students for a Democratic Society).
Panelists:
Jeff Booth (Socialist Alternative)
Gayge (Common Struggle Libertarian Communist Federation)
Joe Ramsey (Kasama Project)
Laura Lee Schmidt (Platypus)
J. Phil Thompson (MIT)
Panelists:
Todd Gitlin (Columbia University)
Tom Trottier (Workers' International Committee)
Ross Wolfe (Platypus Affiliated Society)
Panelists:
Clare O'Connor,
Baolinh Dang (Proletarian Revolutionary Action Committee- Revolutionary Students Movement),
Cam Hardy (Platypus),
Megan Kinch (#Occupy, Toronto Media Co-Op), and
Jim Stanford (Canadian Auto Workers).
Panelists:
Eric Anatolik (Occupy NS), Jacques Beaudoin (Parti communiste revolutionnaire – Revolutionary Communist Party, Canada) Howard Epstein (New Democratic Party MLA Halifax Chebucto), Max Haiven (Edu-Factory, Historical and Critical Studies NSCAD) and Andony Melathopoulos (Platypus). The panel was moderated by Pam Nogales.
[. . .]